Rescue
Leading Yourself and Others to Freedom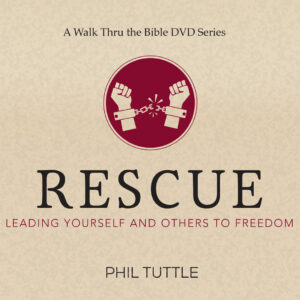 A Study on the Life of Moses
Moses. When you hear his name, what comes to mind? A powerful leader going toe to toe with Pharaoh, never once flinching. God's messenger descending Mt. Sinai with two stone tablets, his face glowing. Or a mighty man holding back the Red Sea as God's people walk through.
He's a giant in Scripture, to be sure, but Moses was an ordinary man through whom God did extraordinary things. In Rescue: Leading Yourself and Others to Freedom, we'll see how God used Moses to rescue His people from slavery and lead them to freedom.
In these six sessions, we'll start with how God prepared Moses for the work He called him to do, and work our way through each step toward freedom until we arrive at the Promised Land—and the completion of Moses' mission. The six sessions are:
Preparation
Confrontation
Liberation
Revelation
Rejection
Completion
Along the way, we'll spotlight truths about freedom that will illuminate our own struggles with bondage, whatever they may be. Because every one of us needs to be rescued from something. Come along with us and learn how.
Rescue is available as a 6-session DVD with participant workbooks.
Workbook Contains:
Fill-in-the-blank notes to help participants follow along and remember what they learned
Application questions
Group discussion questions
Leader's guide
Streaming Video:
The streaming video option is only viewable on our Walk Thru the Bible mobile app. If you need instructions on downloading the Walk Thru the Bible app, go here. 
If viewing the streaming video, we recommend that small group members purchase the workbook to have access to the fill-ins, discussion questions, personal reflection questions, etc.
Free Samples of Rescue: