Chiseled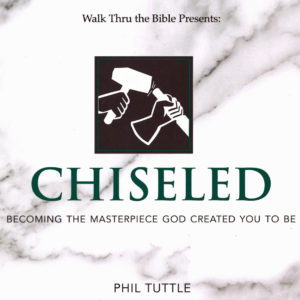 A Study of the Life of Simon Peter
With a chisel, a plan, and a lot of patience, the Master Artist transforms a chunk of rock into a masterpiece. Yet this particular work of art is not on display in the finest museum but in the pages of God's Word. There we see God take the brash and impulsive Simon Peter and turn him into the man, the leader, God always intended him to be. We can learn a lot from Peter's life as we look at how he was:
Called to Follow
Willing to Risk
Challenged to Grow
Motivated to Serve
Allowed to Fail
Restored to Lead
In God's hands, anyone can become a masterpiece. His work in Peter's life shows how He can work in our lives, too, to lovingly shape and sculpt us into the likeness of His Son, living masterpieces that will forever reflect the beauty and glory of the Artist Himself.
Chiseled is available as a 6-session DVD with participant workbooks.
Workbook Contains:
Fill-in-the-blank notes to help participants follow along and remember what they learned
Application questions
Group discussion questions
Leader's guide
Free Samples:
Also Available for Streaming
Perfect for small groups!