Description
Do you struggle with reading the Old Testament? Do you feel like it's too complex because of all those long names and all those kings, or like it doesn't apply to your life today? When studying these first 39 books of the Bible, it's easy to get lost in the wilderness. That's why we want to give you a mountaintop view.
Introducing otPANORAMIC, the most adventurous resource from Walk Thru the Bible yet! In this new series, our Chief Growth Officer Michael Gunnin will climb some of the most famous mountains in the Old Testament in order to help us better understand the big picture of God's Word. He'll talk about what happened on these mountains, how God intersected with someone's life in a huge way, and why these events are so important to both God's Story and ours, even today.
otPANORAMIC is only available as a digital product on our Walk Thru the Bible mobile app. No physical product will be shipped to you. Please see below about downloading our app and locating otPANORAMIC in the app once you've purchased it.
otPANORAMIC is 7 sessions that include:
Old Testament history segments including maps;
Video teaching from the top of 7 famous mountains in the Old Testament;
Daily Bible reading plans;
Discussion questions
The session titles are:
Session 1: Beginnings – Patriarchs [Mount Moriah]
Session 2: Egypt – Law [Mount Sinai]
Session 3: Wilderness – Conquest [Mount Nebo]
Session 4: Settled – Judges [Mount Tabor]
Session 5: Kings – Expansion [Mount Zion]
Session 6: Division – Prophets [Mount Carmel]
Session 7: Captivity – Return [Mount Gerizim]
otPANORAMIC is only available on our Walk Thru the Bible mobile app (see below) as a digital product. All members of a small group should purchase otPANORAMIC  to have permanent access to the videos, discussion questions, reading plans, etc. The videos and other resources are not shareable or transferrable.
***
otPANORAMIC
is only available on our Walk Thru the Bible mobile app.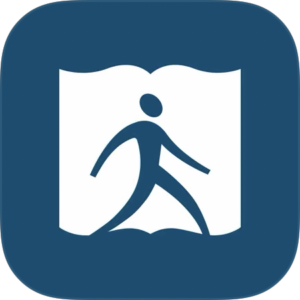 Download the Walk Thru the Bible app for free on Apple or Google today!

To find it in your preferred app store, search "Walk Thru the Bible" and look for our logo as pictured here. Find out more here:
walkthruapp
When you purchase otPANORAMIC, you can find it in your app in two places:
1. Click on the "Engage" icon on the menu bar at the bottom of the WTB app home screen;
2. Or, you can find it in your account, under "Purchased Resources." Your account is located in the icon at the top right of the app's home screen. Your app user name and password is the user name and password you used to purchase otPANORAMIC or anything else from our store, or if you've signed up to receive Walk Thru Postcards, etc.