Trevin Wax on the Next Generation of Believers
Subscribe Now:


On this episode of STEP INTO THE STORY Podcast, Phil talks with author Trevin Wax. Trevin is a general editor of The Gospel Project, theology advisor at LifeWay Christian Resources, visiting professor at Wheaton College, and a contributing writer for The Gospel Coalition. He's written multiple books, including The Multi-Directional Leader, Rethink Your Self, This Is Our Time, Eschatalogical Discipleship, and Gospel Centered Teaching.
Though he is a highly-regarded writer today, he started his ministry career far from any kind of limelight. At 19 years old, he felt God calling him to mission work in Romania. That is where he met his wife, started his family, and saw a very different picture of what the Christian life can look like. It wasn't just a cultural norm. It wasn't tied up in politics. Instead, it was everyday people facing real problems who needed the love and power of Jesus in their lives.
The many years Trevin spent in Romania were, of course, deeply transformative. When he eventually came back to the States with his wife and family, he had a new perspective on ministry. Interestingly, he sees this same perspective reflected in the younger generation of the American church.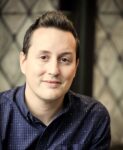 Research shows us that fewer and fewer millennials and members of Gen Z claim Christianity. While this is obviously not good news, Trevin believes there is a positive implication for today's young people: "Younger Christians already expect to be a countercultural minority."
In Romania, Trevin saw firsthand the difference being the cultural minority had on the believers heencountered. He says, "As families recognize there is a picking up of the cross to follow Jesus, that there is a self-denial at the heart of Christianity…it tends to create a sense of belonging and boldness in the younger generation. Some people want to get rid of that resistance. They leave the church or leave the faith, but many others become more devout because their faith must mean something to them in order to withstand the social pressure."
Trevin sees the same thing happening for America's Christian youth. He sees a generation not worried about maintaining power or their comfortable way of life, but one who is preparing to live as a minority. They think more pastorally instead of politically. They know the only way to change the culture is by changing hearts.
Listen to this in-depth conversation with Trevin Wax about the American church versus the international church, the importance of involving young people in church leadership, and his hope for the next generation!