STEP INTO THE STORY Podcast launches today!
What's your God-story?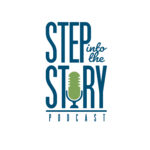 Listen to the Step Into the Story Podcast with Phil Tuttle as he talks with guests about how God has intersected their lives with His Grand Story, the Bible—and how God used His Word to make a difference in his or her life's story—its trajectory,  decision-making, and more. They'll talk about the beautiful story God is writing in their lives and through their lives, and how He has led them throughout their lives. Each episode is a powerful conversation about God, the Bible, and the story of a life changed.
And at Walk Thru the Bible we know that when people read and study and engage with the Bible, everything changes!
So how has the Bible changed your life? Step Into the Story—God's Story—with us!
Episodes every other Tuesday.
*****
Subscribe to the podcast feed
Manual feed link:
https://www.walkthru.org/feed/podcast/step-into-the-story
Or find us at:
Step Into the Story Podcast is powered by Walk Thru the Bible.
©2020 Walk Thru the Bible
All rights reserved.