Kitti Murray: Helping Others Find Refuge in God
Subscribe Now:


In this episode of the Step Into the Story Podcast, Phil talks with Kitti Murray, owner of Refuge Coffee Co., about her story, about helping others find refuge in God, and how God directed her and her husband Bill's steps to move to Clarkston, GA, to serve a global community of resettled refugees and immigrants.
This community represents about 45 countries and 65 languages, and it has been called the most diverse square mile in the country. This has been the most intense and inviting neighborhood in their experience, and it has taught them to dream big and love even bigger. One expression of that love has been Refuge Coffee Co., a non-profit Kitti founded as a way to join hands with neighbors near and far to create opportunity and true refuge through coffee and community service. Kitti and Bill established Refuge Coffee Co. to help provide coffee-related job creation, job training, social networking, and commerce to help people create a life for themselves.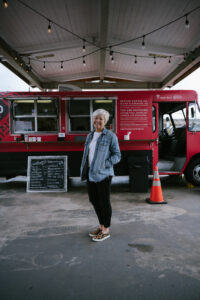 Refuge has been featured on CNN, NBC Nightly News with Lester Holt, Senator Bill Bradley's radio show, American Voices, Food & Wine magazine, and NPR's The Salt. Kitti has spoken about Refuge at Creative Mornings, the Q Commons, Leadercast Women, Google Atlanta, the Center for Civil and Human Rights, and at other venues where people come to hear stories about justice and mercy.
Connect with Kitti and Refuge at www.refugecoffeeco.com or on social media @refugecoffeeco.
Find out how God intersected Kitti's story with His Story, and how the Bible showed her how God is a welcoming God, how He is the refuge we've all been seeking, and how Scripture helped her and Bill with this decision point.
And learn how you can find your true story in God's Story.