Ellie Holcomb: Love Flows in the Canyon
Subscribe Now:


When she was young, Ellie Holcomb made two promises to herself. Number one, she would never be a professional musician. Number two, she would never marry a professional musician. Growing up with a music producer for a father, she saw up close the difficulties of pursuing a career in music, and she didn't want any part of it. As she looks back on her life now, she has come to a conclusion that age inevitably brings: God has a great sense of humor.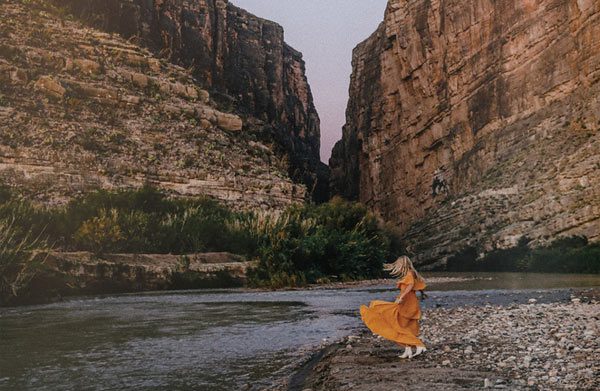 You may know Ellie from her solo albums, her work with Drew Holcomb and the Neighbors (her husband's band), or her many collaborations with other artists. Regardless, your introduction to Ellie is almost definitely related to her music. Today, she's a renowned singer-songwriter and Dove Award winner getting ready to release her third album, Canyon.
But her start was much less auspicious. "I was like a bad version of Taylor Swift in college," she says. She would write breakup songs and sing them to herself in the stairwell of her dorm as to not wake up her roommates. Soon, she found she was attracting an audience.
"Girls would start lining the stairwell. A lot of times, they would be crying. Not all of them would be sober. They would sit down on the stairs with me, not having ever met me before, and start telling me their stories. They would say, 'Thank you for playing that song.'"
This is where she learned about music's power to build bridges. Because she played a song about her own experience, other people felt safe, seen, and loved. Music was a connector. And when she started writing songs about her faith, she found Jesus was using her music to connect people to Himself. This was God's calling on her life.
The journey hasn't been easy. You can hear the pain, grief, and loss she's experienced reflected throughout her songs, and her upcoming album is no exception. In the aftermath of a tornado that tore through her neighborhood, the Nashville bombing, national tension in response to racial injustice, and devastating losses from COVID, she felt like her heart was split wide open, like a canyon.
In fact, it was on a trip to the Grand Canyon that God began to minster to her through His creation. A canyon, she discovered, is the result of countless disasters, hollowing out the earth deeper and deeper. She thought to herself, "This looks like a picture of all of our hearts after this crazy, chaotic year."
But she also found something else to be true. "There in the middle, in the very pit of that canyon, we were on a river. There was a river running through this great divide, these stories of disaster." To Ellie, this was a clear picture of the Gospel. In the midst of our deepest pain, there is a current of living water. God's love is still flowing in our heartbreak.
On this episode of STEP INTO THE STORY, Ellie Holcomb talks with Phil Tuttle about the wounds that leave us divided and a Father's love that brings us back together.