Davis and Rachael Carman on Homeschooling and an Unpredictable God
Subscribe Now:


Davis and Rachael thought they were going to live the normal, stereotypical American life. He was an engineer. She was a public school teacher. They would have two children, settle down, and proceed as normal. However, the God they serve doesn't do "normal." Seven children and one major career change later, they found themselves living a life they never could've imagined.
Today, Davis and Rachael Carman own Apologia Educational Ministries, the award-winning publisher of creation-based science, math, Bible, and worldview curriculum for homeschool families. Ironically, when Rachael first had children, she used to openly make fun of the homeschool moms she knew. "I would tell them, don't you know the bus stops in front of your house?"
But when it came time to put her oldest son on the bus, she found public school wasn't going as well as she'd planned. After just a few days, Rachael noticed a major change in her child. "He had been so passionate and energetic and full of questions, but now, it's like he wasn't even alive anymore."
So the Carmans decided that, at least for his kindergarten year, they would homeschool their son. Turns out, this would be much more than a single year commitment. Homeschooling soon became one of the most important parts of their lives.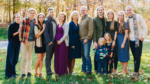 A few years down the road, God showed them that He had been preparing them for something else. When Davis lost his job, he decided it was time to run his own business. The search did not initially go well, but a conversation with some friends helped him find direction. "They said, 'Davis, what are you passionate about?' And I said, 'I'm passionate about homeschooling, but I don't know how to make a living doing that.' And they said, 'Why don't you buy a homeschool company?' And it's like a lightbulb went off in my head."
Acquiring Apologia turned out to be a long, difficult process, but one that God has blessed tremendously. And now, the Carmans are launching the next important step of this business: The Word in Motion, a new Bible curriculum from Apologia in partnership with Walk Thru the Bible.
When Rachael attended her first Walk Thru the Bible event, she knew learning the Bible through physical movement was exactly what her ADHD son needed. She also immediately knew it was what other countless homeschool parents needed to teach their children. And after years of development, that curriculum is available for pre-order today! Visit apologia.com/bible to learn more.
God's plans for us are always bigger than our plans for ourselves. That's certainly the lesson Davis, Rachael, and their seven children have learned over the past several years. In this episode of STEP INTO THE STORY Podcast, they share their epic story of big dreams and a bigger God.