Jodie Berndt on Praying the Scriptures
When asked about the inspiration for writing her book Praying the Scriptures for Your Children, Jodie Berndt recalls a humble, relatable predicament she was going through with her family. "We had four kids born in six years," she explains. "Somebody was always squabbling." As she was reading her Bible, she came across Ephesians 4:29, which says, "Do not let any unwholesome talk come out of your mouths, but only what is helpful for building others up according to their needs, that it may benefit those who listen." She started praying this scripture over herself, her children, her husband, asking God to remove negative speech and replace it with wholesome, helpful words. It was a simple prayer, but it had a profound impact.
According to Jodie, this was just the beginning. "As we began to have our children, I was praying for them and seeing God answer and realizing how many places in scripture address the needs our children have. I thought, 'Is there any need we have that God's Word doesn't cover?'"
So Jodie began asking other parents what needs they were praying over for their kids. She even sent out a survey. As the results started coming in, she began researching how the Bible addressed each of these topics. As she suspected, God had an answer for each one in His Word. She felt inspired to write about how parents could use the Bible to pray for their children, taking the wisdom and assurances God has spoken to us and praying them back to Him. Thus, the book was born.
Since then, Jodie has also written Praying the Scriptures for Your Adult Children, Praying the Scriptures for Your Life, and many other titles. She is even currently working on Praying the Scriptures for Your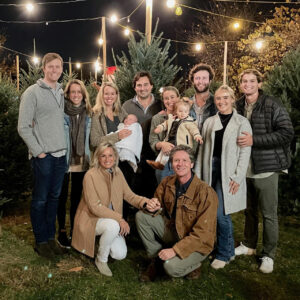 Marriage. But no matter how many years she spends reading the Bible and writing books about prayer, she is still constantly amazed by the impact this practice still has in her own life.
A few years ago, she was watching her adult children go through a particularly difficult season. She was beseeching the Lord in prayer, asking Him to provide the specific answers she believed would fix her children's problems. But as He is prone to do, God did not answer in the way she wanted. Instead, He pointed her back to Scripture.
"God said to me, 'Jodie, you didn't trust Me. You trusted in your agenda, in the outcome that you thought would happen or should happen,'" Jodie remembers. "He said, 'I don't want you to want the result. I want you to want the relationship. I want you to want Me. And in fact, your disappointment, your struggle, your heartache—those things are real. I want you to bring them to Me because I can take it. I can take your questions, your pain. And I want you to let Me comfort you.'"
She began to pray from 2 Corinthians 1:3-4: "Blessed be the God and Father our Lord Jesus Christ, the Father of mercies and God of all comfort, who comforts us in all our affliction, so that we may be able to comfort those who are in any affliction." She also prayed from Psalm 16:11: "In your presence there is fullness of joy; at your right hand are pleasures forevermore." In these verses, she saw that experiencing the presence and comfort of God is a greater blessing than any occupation, financial situation, or other relationship could ever bring. While praying that God will bless us or our children with solid jobs and good friendships is certainly not wrong, Jodie realized how much more she should be praying that she and her family learn to rest in the fullness of God.
Listen to our full conversation with Jodie Berndt on this episode of the STEP INTO THE STORY Podcast!