Chosen – Perfect for Advent!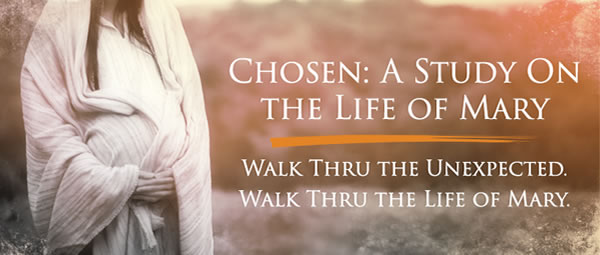 What do you do when life doesn't go as planned? When God chooses you for His mission and calls you into the unknown?
Chosen, a four-week interactive Bible study from Walk Thru the Bible, sheds light on one of the toughest people in Scripture – Mary, the mother of Jesus. Though we all know her, we often put her on a pedestal or leave her in Bethlehem, defining her life by what she gave to the world, not by her walk through it. But Mary's life – filled with joy and sorrow, honor and rejection – teaches us amazing truths about our own lives. This study humanizes a story you've heard so many times and gives us a different look at the woman who said yes to God's plan.
*Perfect for Advent as a 4-week preaching series, or as a small group study or Sunday School series!
Available as a 4-session DVD series with a companion workbook and group discussion questions, as well as a teaching resources disc with teaching notes and PowerPoint, Chosen is perfect for Advent as a small group study, a preaching series, or a family study. Watch the amazing things that can happen when God chooses you!
Chosen is for women and for men! Mary's life story has life-changing, eternity-impacting lessons for all of us!
Session titles:
When God Changes Everything
When You Feel All Alone
When Life Breaks Your Heart
When Life Must Go On
Workbook contains:
Fill-in-the-blank notes to help participants follow along and remember what they learned
Application questions
Group discussion questions
Leader's guide
Teaching Resources disc contains:
Teacher training manual for the series
Teaching PowerPoint for the series
Special sale pricing of $99.99 for the Teaching Resources Bundle ends November 8, 2019.
*FREE for a limited time! — Place a Chosen order now and you will receive a free PDF download of Chosen preaching notes for the four weeks of Advent! These preaching/sermon notes are designed to preach through the series for Advent (vs. for a small group). When you place a Chosen order before 11.8.19, we will contact you with your free resource.