Andrew Peterson on the Freedom to Create
Andrew Peterson is the definition of a multi-hyphenate. As a singer-songwriter-author-producer-publisher-filmmaker-beekeeper, he finds a lot of ways to express the creativity God has given him. So what's the common thread that ties all of these efforts together? After years of ruminating on this question, Andrew finally has an answer: "I want to try to tell the truth as beautifully as I can."
You may know Andrew from his twelve studio albums (not including multiple EPs, compilations, live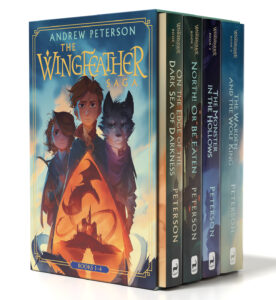 albums, and re-releases), his yearly Christmas tour that consistently sells out the Ryman Auditorium in Nashville, or his award-winning fantasy series The Wingfeather Saga that is soon to be an animated television show. Maybe you've heard his hit worship song "Is He Worthy," which has been covered by some of the biggest names in Christian music. Regardless of how you've experienced him, his only hope is that you experience something much greater than him.
"I really just want people to know Jesus is God and that He loves them," he says. "The way to wake up people's hearts tends to be, in my experience, stories and beauty." He presses in further, finding his exact mission statement: "Creating the possibility for people to experience longing for Jesus."
Growing up as a pastor's son, Andrew didn't feel led to traditional church ministry the way his father had. Instead, he felt God calling him in a different direction. Or maybe Andrew was the one calling out to God. After a life-changing encounter with the music of Rich Mullins, he asked God, "'Can I do this thing for you?' And God said, 'Sure.'"
Andrew thinks we spend too much time waiting for God to reveal exactly what we're supposed to do and not enough actually using the gifts He's given us. "If I built this wonderland in the woods for my grandkids, I would tell them to go out and play. It would be the height of annoyance if they came in every five minutes and asked, 'Can I do this thing? What do you want me to do?'" He believes God is saying to us, "I made this whole thing. Just go do the thing that makes you happy."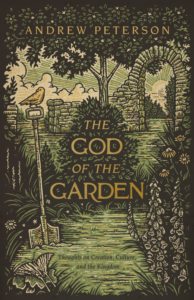 For Andrew, the thing that makes him happy is telling stories, both fictional and autobiographical. He's about to tell his own story in a much deeper way, releasing his memoir The God of the Garden in October. It focuses on the way God speaks through His creation, and it was born out of a year spent at home. He lives outside of Nashville on a few acres, and he's become a beekeeper and a gardener, working to make that hypothetical wonderland in the woods a reality.
"I had a year at home to really see the seasons change, for the first time in my adult life," he explains. "I've always toured. So to be home for everyday of spring, to see the way each flower opens up slowly, to see the way autumn sneaks in—I'd never experienced that as a grown man before, in this place I'd given so much of my blood, sweat, and tears to."
In the book, he writes about trees, their beauty, their purpose, and their significance in scripture. "The best life that we can live is like a tree planted by the water," he says—a life spent nourished by God's creation and, in turn, producing shelter, sustenance, and inspiration for those we encounter. A fitting observation for the multi-hyphenate Andrew Peterson.
Listen to our full interview with Andrew on the STEP INTO THE STORY Podcast to learn more about his life, his music, his books, and his upcoming projects.