Step Into the Story with us!
It's day 4 of our live stream Step Into the Story! 
We're so excited that so many of you from around the world are joining in as we dive into the Word of God!
Here's where some of you are located: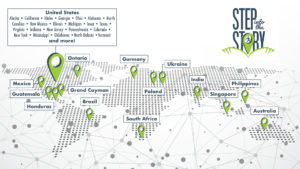 Join us tonight (Thursday, 4.9.2020) for Session 4 and tomorrow night (Friday, 4.10.2020) for Session 5 both at 7:00 PM (EST).
You can watch here:
Watch on YouTube: www.youtube.com/walkthruthebibleusa
Watch on Facebook Live: www.facebook.com/walkthruthebibleusa
Go to www.walkthru.org/stepintothestory for more information.
To sign up for the hand-sign reminder emails, go to www.walkthru.org/40days
Hope to see you for the last two sessions!